wind resistant water repellent breathable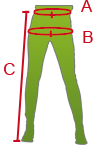 Measure your waist (A.) your hip measurement (B) and the page length (outer leg length from your waist to the sole - C) with a tape measure. Tip: It's easier if someone helps you. With the read values, you can now deterministic mine your dress size using the chart below.
* Measure the side length with a tape measure from the sole of the foot to the waist.