CATHERINE SMITH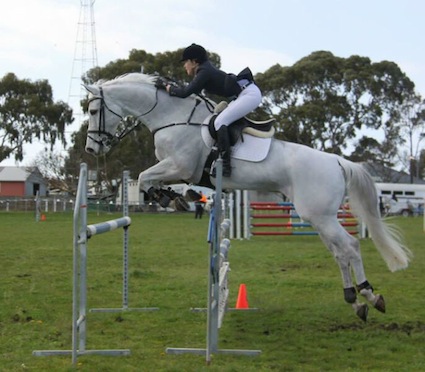 I am a showjumper based at Mayfield Farm, Whittlesea. I've been riding since I was one year old, thanks to my fantastic mum.
She carted my all over VIC & NSW as a kid in Pony Club, competing in everything from the showring, to eventing, show jumping, and games days. Eventually being old enough to compete at Grade 1 level.
At age 16 I was in a horrific car crash, which broke my pelvis in 3 places. After 7 years of fighting back & lots of treatments from my wonderful Osteo's, Norman Falzon of Ballarat, Katie Wood of Woodend Osteopathy, Ramsay Willmott & Jeffrey Wilson at Whittlesea Basics, I am on the mend & back in the saddle.
In 2012 I was lucky enough to be asked to ride at Stall Ramsbrock in Menslage, Germany, with many thanks to Judy Peel & Uwe Spenlen for making this dream come true.

It was in Germany that I met Martina, she was there with our great friend and coach, Carolyn Earl, sourcing quality European products for her store back home in South Melbourne.
She explained to me her dream of bringing the European fashion, quality and standards to Australian riders at an affordable price.
Some very profound supplier contacts were established and the range is growing fast.

If there is something that you need or would like, please let Martina know, as she is the lady to get it for you!
The City Barn range of products is fantastic and is forever growing with Australian riders demands to wear and ride in the latest European fashion.

I rode at Ramsbrock in both the jumping & dressage barns for 2 months. I then acquired a job at 'Hof Exeriede' based at Holdorf for the remaining 2 months. There I rode Dressage, with Swantje Exeriede & learned the breeding side from her father Arend.
This was an amazng experience & have learned more than I could have ever imagined.

I would like to thank my long standing coach, Carolyn Earl from Locksley VIC, for all her Dressage & Jumping Equitation training, ever since a was a little girl at the age of 10.
More recently I would like to thank Judy Peel, Charlotte Pedersen & Jenny Crowley for all their Dressage training over the last 6 months with Tom & myself. You have improved us out of sight.
Also thank you to Brooke Dobbin for all your showjumping training.

My horses include;
Denison Park Harley - aka Tom (pictured above)
16.3h 8 year old White Holsteiner Warmblood Gelding by Hector, out of Belcam Amalia.
Purchased from Andrew & Ally Lamb in 2011. Thank you Jamie & Sue Coman for finding him for me.
When I bought Tom he was as green as cold be, Ally had done a great job on him, but I knew there was a lot of work to be done, but future potential is what I was aiming for.
Tom spent 2011 & 2012 just popping around jumping shows, not doing much at all, just getting 'miles under his belt' & growing up. At the end of 2012 I stopped jumping all togther & got serious with him on the flat/dressage.
He had 4 weeks off during our yucky winter & started the season at Tatura Jumping Classic in July, jumping double clear in the 1.10m and 1 rail down in the 1.15m jump off.
Two weeks later was Geelong Show Jumping Club Championships, he placed 1st in the 1.10m & 1 rail down in the 1.15m.
Overall extremely happy with a fantastic weekend.
Now we look forward to Euroa Jumping Classic at the end of August & the Australian Championships at Werribee on the 19th-22nd of September.


Cornet's Cloe

This 17h Bay 4yo Westphalian, Cornet's Stern, mare was purhased in Germany in August 2012
She Won best jumping mare born of 2009 at the Westphalian Munster-Handorf mare show in July 2012.
Imported over in November 2012.
She went into light work & was put in foal to Tom McDermott's new stallion, Quintago I.
She is due to foal in November 2013.
Cloe is an amazing, strong mare with a massive personality, I am looking forward to this mare coming out sometime in 2014 under saddle.

Victtoria

18 month old Bay filly, Van Gogh(Numero Uno) x Balou de Rouet.
Purcashed at the Oldenbuger Elite Foal Auction in Vechta 2012.
She is still over in Germany at 'Hof Exeriede' in Holdorf growing up. I can't wait to see what she has become next year.